Veneers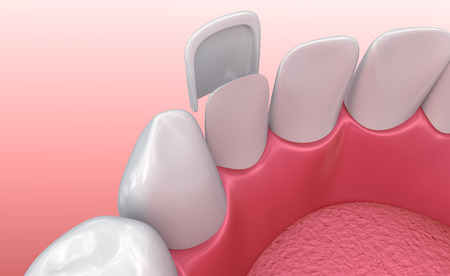 Veneers are thin shells of porcelain or resin that measure less than 1.5mm in thickness and are typically used to cover teeth which are discoloured, worn, chipped, or misaligned.
Veneers are used for many of the same reasons as bonding but they involve a different procedure.
The first step is to prepare the tooth and take an impression of the tooth. A temporary filling may be used while the impression is being custom created at a dental laboratory. Once the veneer has been created, it is cemented into place.
Typically, veneers are highly stain-resistant and very durable - it is typically more durable than composite restorations. It's recommended that you consult with one of our dentist's to make sure that you're a suitable candidate for veneers, or other options more suitable to your individual needs.
Although veneers are more expensive and time-consuming than bonding, they are less expensive than opting for crowns (and also conserve the natural tooth, as a bonus). If you are looking for a dentist in West Edmonton to find a solution for worn or misaligned teeth, give dentalFX a call at (780)705-5322 and any of our Doctors can help you find an affordable solution, such as veneers.
Call dentalFX in West Edmonton for a consultation with our Doctors, Dr. Mandeep Kanwar, Dr. Hafiz Damani, Dr. Ozair Vicaruddin and Dr. Neetu Verma regarding Veneers.